I pledge allegiance, to the flag, of the United States of America..
We always like to keep our eye on "the special stuff" here at Otter's Tears, and this week has brought a few very highly rated beers in from some of the USA's top rated breweries. All of these beers are rated at 97% and above on Ratebeer, with many sitting at the big 100%.
Here's a quick run down with notes and information from the brewers websites.
Hoppin' Frog – Boris The Crusher Reserve: "After brewing B.O.R.I.S. The Crusher successfully for many years, our creative minds wander. We imagine a B.O.R.I.S. brewed with even better dark grain – the finest imported dark grain – for a smoother and mellower deep-roasted flavor. When we finally made our dreams become reality, it was a symphony of beautiful flavors, a higher level of B.O.R.I.S. born from our creativity, that deserves the name B.O.R.I.S. Reserve!" – Ratebeer Score: 99%
About Hoppin' Frog: Hoppin' Frog Brewery is a small, hands-on brewery in Akron, making very flavorful beers in the most flavorful styles. We brew the highest quality beer with an uncompromising focus on detail, from the ingredient selection to the brewing process.  Our highly rated Tasting Room is on-site, offering fun, adventurous dishes that change with the seasons, and a vast array of the highest quality beers. 
Prairie Artisan Ales & Evil Twin collaboration – Barrel Aged Bible Belt: "Let's face it – we love big, flavorful stouts. As luck would have it, our friend Jeppe at Evil Twin Brewing feels the same way. We decided to brew a beer together that took elements from our favorite stouts we each produce to come together as one beer. Bible Belt takes elements we love from Prairie Bomb! and combines them with Evil Twin Brewing's world famous stout, Even More Jesus. The end result is a smoky, spicy stout that is sure to please the palate." Ratebeer Score: 100% 
Lost Abbey – Serpents Stout 11% : The history of the bible and religion is indeed the struggle of good vs. evil. Our Serpent's Stout recognizes the evil of the dark side that we all struggle with. This is a massively thick and opaque beer that begs the saints to join the sinners in their path to a black existence. Ratebeer Score 100%
Lost Abbey – Deliverance 12.5% : A blend of bourbon barrel-aged Serpent's Stout and brandy barrel-aged Angels Share, Deliverance is the epic battle being waged between heaven and hell for the souls of mortal men… and your enjoyment in a glass.  Ratebeer Score: 100%
Lost Abbey – My Black Parade 12.5% : A blended Bourbon barrel-aged Strong Ale with cocoa nibs, vanilla bean and spices. My Black Parade begins with a deep bouquet of rich chocolate and layered hints of cinnamon and oak. Huge flavors of cocoa on the palate with notes of vanilla, bourbon, and tobacco, finishing with crisp bite from the smoked chili's and cardamom. Ratebeer 99%
Westbrook – Siberian Black Magic Panther 12% : This beer is as hairy as a Siberian… or as a panther. And you better believe it because it gets the black magic from mountains of roasted malts and dark candi syrup. During the long weeks in the fermentor it gathers its rage… a rage this mythical beast of imperial stout wants to unleash on your taste buds…  Ratebeer Score 97%
Jolly Pumpkin – Anchorage No Ka Oi 6.3% : No Ka Oi is a wild ale with an ABV of 6.3 percent. It was brewed with all Michigan hops, raspberries, and lime peel. No Ka Oi was brewed for Gabe Fletcher, founder and brewer of Anchorage Brewing Co. Ratebeer Score 97%
Jolly Pumpkin – Sobrehumano Palena 'Ole 6% : Sour, barrel-aged version of the beer by the same name. Brewed in collaboration with Maui brewing.
Yes, Michigan and Hawaii are connected. It should be obvious to you now, as you hold this beer, and read this label. John and I designed this beer with two noble fruits from two noble states, Michigan & Hawaii. Cherries and liliko'i. Starting to see the connection? I feel it. So does John. 4391 miles may separate our breweries, but no our thirst for the exquisite. Hipa! – Ron
Working with Ron is something I've always want to do since I had my first Jolly Pumpkin beer. Years later, it's a reality. Being involved on this project was an honor and a privilege. Mahalo to my MBC crew and to you, fans of craft beer! – John Ratebeer Score 98%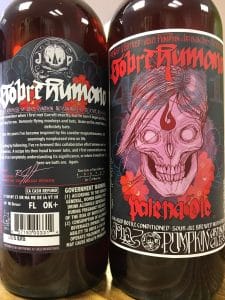 Almanac Farm to Barrel series
Our Farm to Barrel beers focus on the eons-old tradition of aging beers in oak barrels. This American wild ale was aged in used wine casks with our house "Dogpatch" sour culture, a cocktail of wild Belgian and American yeasts, including San Francisco sourdough starter. The yeasts slowly morph the beer from a traditional ale into something wild, creating a mild acidic bite as well as pulling oak and vanilla flavors from the barrel. After maturing, the barrels are blended together—creating a vinous, delicate beer that captures the essence of a particular harvest. Farm to Barrel Beers are alive in the bottle, and will continue to mature gracefully for several year
Farmer's Reserve Nectarine 7% : Is there any pairing more perfect than sour beer and stone fruit? We start with the very best fruit: yellow nectarines grown in the bright Central California sun at Blossom Bluff Orchards, along the banks of the King's River.
Picked at peak ripeness, we add the nectarines to a sour base beer, combining the funky flavors of brett with a bright acidity to highlight the fruit. The result is something special: golden hued beer with fruit aromatics jumping off the glass, the last of summer captured in a bottle. Pair with stone fruit crisp, roast chicken and Prosciutto ham. Ratebeer Score 98%
Farmer's Reserve Pluot 7% : Pluots are some of our favorite fruits. Created by cross-breeding apricots and plums, there are dozens of varieties with an amazing range of color and flavor. All through the summer, Blossom Bluff Orchards picks each variety at its peak: Dapple Dandy, Honey Punch, Flavor Queen, Black Kat & Dapple Jack were all added to a sour blonde ale and aged in wine barrels to create this funky oak-aged brew. Ratebeer Score 99%
Farmer's Reserve Blackberry 7% : We love blackberries. Tart, sweet and complex but guarded by thorny branches, these alluring fruit have been a favorite of ours since we added them to our very first beer. This sour blonde ale is infused with loads of coastal Blackberries from California's Santa Cruz Mountains and aged in wine barrels until our wild yeasts worked their magic. Pair with duck dishes and summer salads. Ratebeer Score 97%
Valley Of The Hearts Delight 7% : This sour beer is inspired by the Santa Clara Valley's agricultural roots, before it was known as Silicon Valley, it was called "The Valley of the Heart's Delight." It was a fertile basin filled with fruit orchards, especially apricots. Inspired by this lost agrarian past, we combined local apricots and strawberries with our barrel sour blonde ale to create this fruit-forward sour. Pair with grilled pork chops, prosciutto or summer salads. Ratebeer Score 99%
Almanac & Stillwater Artisanal 7% : Blueberry Jack is a psychedelic trip to flavor town. A hazy collaboration with our friends at Stillwater Artisanal Ales, it's also the latest entry in their "Strains from Mother Nature" series. We blended together a blonde Brettanomyces-fermented ale aged in both oak barrels and foedres, then added California-grown blueberries and blackberries. After maturing, we dry-hopped the beer with reckless amounts of Citra, Mosaic, El Dorado, Simcoe, Galaxy, Nugget, and Sterling hops for a trippy, tropical-dank aroma. Pair this with freshly-picked herb salads, smoked meats and 2AM Al Pastor tacos. Ratebeer 97%
We have more stock arriving every week, with some real crackers due any day if none of this takes your fancy. Plus a huge range of world class beers right now, in fact I'd go as far as saying our finest to date. Come and see us soon and see for yourself.
Cheers