Welcome to another issue of "Tears For Beers". First some news.
Last Saturdays sour beer presentation with Chorlton Brewery was a great success, with head brewer/owner Mike talking us through some of the beers that influenced his own path into brewing and formed the basis of many of Chorlton's beers. We still have a few of those beers in stock, "Hanssens Artisanaal Oude Gueuze", "Berliner Kindl Weisse" and "Bayerischer Banhof Gose", a quite rare traditional Leipzig  gose. We also have all of the Chorlton beers featured and more in stock, including the new stunning Citra Sour, plus Mosaic and Olicana Lager in cans and if you are lucky, Kohatu Sour on keg.
Thanks to everyone that attended, helped out and of course Mike Marcus. More event news coming soon.
Continuing on a sour note, we commence our new beer listings with two absolute classics from Cantillon and Tilquin. Both of these beers are hard to track down and an absolute must for any fans of gueuze and lambic beers.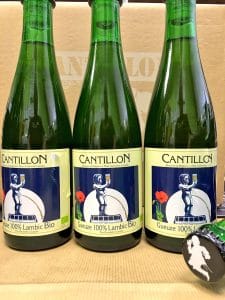 Gueuzerie Tilquin
"Located in Bierghes in the Senne valley, the Gueuzerie Tilquin is the only gueuze blendery in Wallonia. A gueuzerie, or Geuzestekerij in Dutch, is an enterprise where Gueuze à l'ancienne (or Oude Geuze) is blended.
Freshly brewed worts  are purchased from different producers in the region (Payottenland and Brussels), and pumped in oak barrels  for fermentation and ripening, during 1, 2 or 3 years. The lambics obtained are blended and bottled to give, after 6 months of refermentation, the Gueuze Tilquin à l'ancienne, which is 6.4% and is available in 37,5cl and 75cl bottles." (We only have the 37.5cl in stock)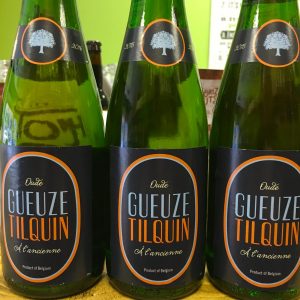 Closer to home we have had a new stock of Thornbridge, with some old favourites returning and a few new gems arriving including the infamous Jaipur X and Eldon Bourbon Oak Imperial Stout.
Jaipur X – "This imperial version of our most successful beer has been brewed to commemorate the 10th anniversary of Thornbridge beers and the first brew of Jaipur in June 2005"
Tart – "Our Bakewell Sour pours a golden yellow colour with a white head, the beer is refreshingly tart and dry with a combination of citrusy hops and flavours of grapefruit and bitter lemon"
Rhubarbe De Saison – "Typical of the Saison style, the beer is golden in colour with flavours from the rhubarb and a combination of Northern Brewer, Saaz and Kent Golding hops. Winner of the homebrew Challenge 2015 created by Will Alston"
Eldon – "The name for this beer is inspired by one of the seven wonders of The Peak District, The Eldon Hole. It is a smooth, roasty stout with added complexity from the addition of Bourbon soaked oak."
Cocoa Wonderland – "A full bodied, robust porter with natural mocha malt flavours from the complex malt grist, complementing the decadent additions of real chocolate to the maturation process"
Staying in the peaks, new kids on the block Torrside continue to treat us with an ever growing list of interesting beers. If you are ever in the High Peaks on a weekend give them a look up as they often host open brewery tap days.
Torrside Brewery
"Torrside Brewing is based in New Mills, in Derbyshire's High Peak, on the north-west edge of the Peak District. Our name is taken from the Torrs, the 70-foot-deep gorge cut by the Rivers Goyt & Sett, that the town stands above and around.  New Mills is an old and sizeable town, but has somehow missed out on having its own brewery!
Torrside was set up by a team of 3 experienced local home brewers.  Each had been brewing for several years, and it proved to be something of an obsession. 
Beer is an amazingly varied drink, with flavours that are created by a huge number of factors  – from the mix of different malts and hops, and which yeasts we use for fermentation, to fine details of the brewing process such as timings, temperatures, and maturation. So we'll be brewing across a wide range, from real ales and world beer styles, to historical recipes and a few more unconventional beers."
…
At the other end of the Peak Forest canal in Manchester we have Blackjack Brewery, who have taken their already beautiful Ace Of Spades impy stout, and red wine barrel aged it with morello cherries… Need I say more? #NomNom
Bloody hell, it's Beavertown Bloody 'Ell, on steroids, and is Bloody Notoriously good, it is also bloody notoriously scarce, we have a few cans left at the time of writing this, if you want one be quick, seriously…
Bloody Notorious – "The 4th wave of Bloody 'Ell has come to an end. Taste buds of the IPA masses have been entrenched for the last few months in zest and juice of the mighty Sicilian citrus, there were no survivors. Now a new champion is sent to examine the desolation, flex his juicy supremes and take his seat as the new king. Welcome Bloody Notorious DIPA! Long may you reign."
…
On to a few international breweries I'm excited to feature. First up Lervig from Norway. I was first alerted to these guys by my good friends over at Cotteridge Wines, who insisted I try the Konrad's Stout which was awesome. All the beers from Lervig are pretty special, but their 3 Bean Stout is up there with the very best I have ever tasted from anywhere. It's a full-on punch in the face flavour and aroma-fest!
3 Bean Stout – "A few Brazilian brewers came all the Way' to Norway to brew a big giant of a stout. Keeping in line with giants, we tossed a few magic beans in the brew for good measure. Tonka, Vanilla and Cocoa beans all do their part in making this a truly complex and unique stout while delivering the dark quality you've come to expect from Lervig. Plant the magic beans!"
Farmhouse IPA – "This brew is the result of our unique collaboration with Magic Rock Brewing (UK). We have combined our love of hops and funky flavours to make this Farmhouse-style IPA. Belgian yeasts and Brettanomyces will make this beer more and more spicy with time."
Konrad's Stout – "A Scandinavian inspired Imperial Stout. Konrad's is a smooth, supple stout with lots of chocolate and coffee flavour with a touch of liquorice. At 70IBU there is more than enough bitterness to balance out the sweetness."
Galaxy IPA – "A Single Hop IPA with a golden copper colour. It's brewed with loads of Galaxy hops from Australia giving this IPA its characteristic tropical fruit flavour. Expect a big hoppy flavour with a heavy dose of up-front bitterness."
You may also have seen Lucky Jack knocking about recently, bang on trend they now have a grapefruit edition, I think you'll like it!

Lucky Jack Grapefruit – "Our Flagship beer Lucky Jack gets a kick in the ass with more fruit, we simply added Grapefruit peels and Pink Grapefruit juice for the summer beer edition. Slight more pink, slightly more acidic, a lot more fruity and fresh! Unfiltered and limited for the summer!"
"Lervig Aktiebryggeri"
Lervig is an independently owned and operated craft brewery located in Stavanger Norway. We produce a wide range of beers from easy-drinking pilsners and pale ales, barrel-aged barley wines and sour beers.
We are constantly pushing the boundaries of brewing for both everyday people and craft beer lovers alike. Our goals are to brew the best beers in the world, we like to work outside our comfort zone as well as combine our creativity with the years of craft brewing experience that our brewers have.  Everyday we work harder to deliver the quality our customers expect from Lervig.
Today Lervig is focused on growth – we push the creative limits of brewing while making sure we have a healthy supply of refreshing beers to ship throughout Norway and beyond. Lervig's people are what makes this brewery even more special; you'll find an international team within its walls bringing a global perspective our brewing process, and working hard to make sure that Lervig keeps producing the quality craft beers you've come to expect.
…
Belgium – I'm also very excited to get beers in from The Musketeers Brouwerij with a couple of their Troubadour series brews, Magma, a big chewy Belgian Triple/IPA and Westkust (West Coast) Black IPA.
Magma – "Troubadour Magma is an amber beer with a spicy and bitter character of an American India Pale Ale, but softened with the flavour of a Belgian Tripel. Enjoy the explosion of fruity aromas coming from the dry-hopping."
Westkust – "West Coast troubadour is a dark, almost black beer with 9.2% abv with aroma of hops, roasted malt, coffee and light notes of chocolate and vanilla. The flavour is a balance between the flavour of roasted malt and coffee followed by a sharp but pleasant bitterness that slowly gets the upper hand and ensures a long hoppy finish."
New to me, and relatively new historically speaking on the Belgian brewing front, we are trying out Brouwerij TOYE. Let me know what you think?
TOYE – Goedendag – "(Good Day), belongs to the type of heavy blond beers. It is a high fermentation beer with secondary fermentation in the bottle. The light blonde beer is a pretty solid foam during pouring. The aroma is fruity perceptible doing to think ripe banana with a floral hoppiness. In taste fruitiness and hoppiness is also reflected. This is nicely supported by a gentle, noble bitterness. The alcohol content of 8% by volume. further underlines the powerful character of the Good day."
Finally on the Belgian Front, due to popular demand for Belgian Blond beers, we are now stocking Brugse Zot and Slaapmutske.
Lots more new beer in stock and arriving daily, come and see for yourself, tell with your friends and share the beery love. Until next time!
Cheers
Phil