I've said it before and I'll say it again, there has never been a better time to be a lover of good beer, certainly in my lifetime anyway. We are awash with new breweries from here and another great brew from there, so much so that it is often difficult to keep up. However, it is equally easy to lose sight of some of the absolutely stunning beers that have been around for quite a while, back even before the days when "craft" only referred to the likes of knitting, crochet and making replicas of Tower Bridge from matchsticks.
Without delving too deep into the history books, Fuller, Smith and Turner, or Fuller's as they are more commonly known, joined forces in 1845. A year familiar with most as it features as the name of one of Fuller's more prevalent beers, available in several supermarkets. But the history of brewing goes back around 350 years in around that particular area of London. In short, they have some serious brewing heritage…
Now as you know, here at Otter's Tears our aim is to bring beers to you that are a little bit special, beers that you can't bag on a 3 for £6 deal at Tesco, Morrison's and the like. It is also important to me that I am proud to have them on the shelves, so that I can feel happy in recommending them to you, so I have put together this collection from Fuller's that I am confident you will love. Read on..
Past Masters "Every single afternoon since 1845, the Fuller's brewing team has diligently written out the ingredients of the day's brews – and the Past Masters series is a great example of why we do it.
Past Masters 1926 Oatmeal Porter: "1926 Oatmeal Porter is the seventh beer revived as part of our Past Masters collection. It's been brewed to a 90-year old recipe from the Fuller's archives, to celebrate the occasion of the Queen's 90th birthday. Well worth revisiting, this is a rich, special Porter with Northumbrian oats added to the brew, giving a smooth mouthfeel and delicious notes of coffee and dark chocolate. Fans of the Porter style, or any strong, dark beer, won't want to miss out."
Better with age As a bottle conditioned beer, 1926 Oatmeal Porter contains sediment that allows the flavours to develop up until the moment the bottle is opened. This beer should therefore be stored upright in a dark room, and poured carefully when served for the best possible results."
I've personally not tried the 1926 as yet, but previous Past Masters beers have been really good, a world away from the Fuller's pub favourites you may or may not love.
Fullers's Imperial Stout: "Imperial Stout delivers roasted dark chocolate notes against a slightly fruity acidity. Sovereign and Centennial hops, meanwhile, bring floral flavour, enhanced by dried rose buds that hint at Turkish Delight. There's a taste of liquorice there too, ahead of a lasting finish with fairly high bitterness."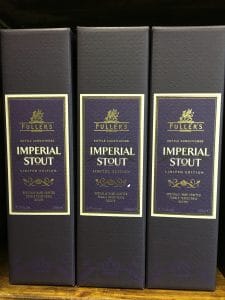 This is a fantastic beer, bottle conditioned too so perfect for cellaring for a while if you can resist temptation, I currently have a few tucked away out of reach..
Vintage Ale: "Fuller's has created a new recipe of Vintage Ale every year since 1997, picking the best ingredients at the time, to make a strong beer with a complex character. Every bottle of Vintage Ale is individually numbered, making our older Vintage Ales extremely rare and sought after."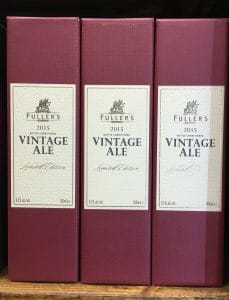 Vintage Ale 2015: "A beautiful beer brewed celebrating the 50th anniversary of famous British malt variety Maris Otter and brewed using exclusively British ingredients. The floor-malted Maris Otter is combined with home-grown Target, Northdown, Challenger and Goldings hops to create a best-of-British beer with complex flavours, a fruitful aroma and a bitter finish."
I've been buying, drinking and saving Fuller's Vintage Ales for years and they never disappoint. The other thing to note here is these beers are absolutely perfect to hide away for a few years, knowing that they will only be getting better and better. Take a look at the Fuller's website and you will see vintages still on sale dating back to 1997, their value rising massively in the process year on year. So whether you are buying for pleasure, an investment or maybe to celebrate a life event, these are a fantastic choice. Had a child born in 2015 for example, why not buy a couple and store away until he or she is 21, what a way to celebrate a milestone?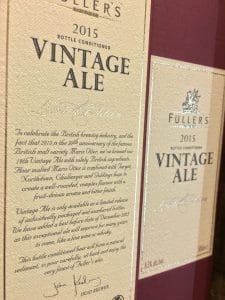 There are a couple of good reads here, showing a couple of takes on how each beer develops over time, the first by Mark Dredge the other Des de Moor, both highly respected, published beer authors.
Fullers Vintage Ale: A 15-year vertical tasting – Mark Dredge
Fuller's Vintage Ale – Des de Moor
Brewer's Reserve
The "Brewer's Reserve" range is now, as the name suggests in its 5th incarnation of oak barrel aged beers. No1 was a 30 year old Glenmorangie single malt whisky Cask, No2 – Courvoisier Cognac, No3 Auchentoshan whisky and No4 – Comte de Latvia Armagnac.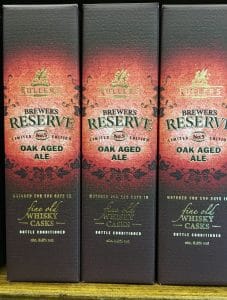 Brewer's Reserve No5: "Aged for 18 months in 30-year-old whiskey casks, Brewer's Reserve No.5 is a full-bodied limited-edition beer, infused with the secrets of whiskey-soaked wood. Pouring a dark brown colour, it conjures a sherry-like aroma with notes of bourbon on the nose, while on the palate, it delivers sweet biscuit, fruitcake flavours and ripe notes of cherry – ending with a warm, smooth and satisfying finish. A truly special beer that every ale lover should experience. The launch of Brewer's Reserve No.5 marks ten years since the start of the series. To celebrate, we've sourced whiskey casks from Glenmorangie, the same Scottish distillery we used a decade ago."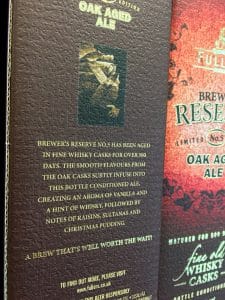 As you can see from both the images and the descriptions, these are some special beers we have right here. All but the Past Masters come in beautifully finished boxes, with bottles internally tape-sealed too. I really hope you guys buy, cherish and enjoy them as much as I do.
Cheers
Phil