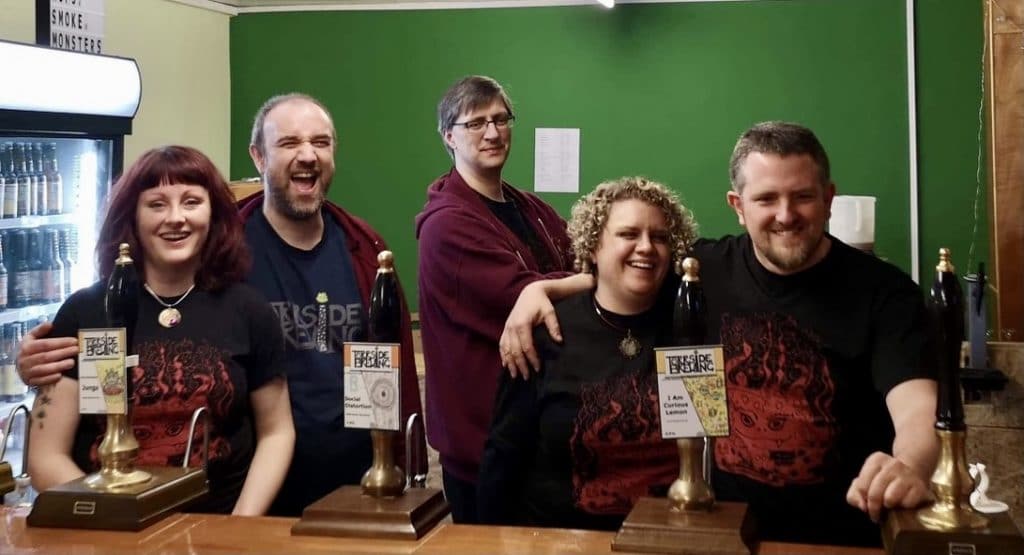 I make no secret that I'm a devoted fan of Torrside Brewery, in fact, I'm more than happy to shout it from the rooftops and I'll tell you exactly why. Clearly, I enjoy their beer, it's delicious, that is a given. They brew beer without compromise as detailed in the post about our collaborative beer "Blimey The Elders". I'm sure they would agree to be tagged as non-trendsetters, I'd go as far as saying they are "trend-buckers" if that is even a real expression. In that I mean they are completely comfortable in exploring styles that others would discount and do them incredibly well, Grodziskie being a great example, a beer which Chris once told me was his favourite. I could go on, but that's not why you are here, apart from to say perhaps the biggest reason of all is that they are all, genuinely lovely folk who I'm lucky to class as good friends.  Read on to get a glimpse behind the smoke and monsters of New Mills…

Tell us a little about you and your brewery?
Chris answering questions here! I'm one of the three Torrside brewers and co-owners, the other two being Peter and Nick. We've followed the well-trodden homebrewers-turned-pro route, but we've perhaps stayed closer to our experimental homebrew routes than some! We've been brewing "commercially" for a little over five years now, producing all sorts of beers in cask, keg and bottle. It might sound a bit cliched, but we brew the sorts of beers we like to drink, from traditional styles that we all love (mild, Rauchbier, Grodziskie, Imperial Stout, etc.) through to oddities that I'm pretty sure we've invented ourselves! Plenty of hoppy pale stuff too, of course.
Can you explain the reasons behind the brewery name?
We sat down and brainstormed loads of potential brewery names when we first set up. We wanted a name that had some sort of local relevance, without being too twee and old fashioned, but that would also seem perfectly normal to anyone not familiar with the local area. New Mills is built over a gorge known as the Torrs. Disappointingly straight-forward, but we simply added a few letters!
Briefly describe your beer journey, from your first drink through to brewing commercially?
Much like many people my age, I suspect, my beer journey started with cheap Carlsberg and Red Stripe in dimly-lit rock clubs in the 90s! I graduated to real ale via the now-long-gone Feline & Firkin in Wolverhampton, then continued to drink plenty of Firkin and Brains beers while at uni in Cardiff. The first beer I ever remember being blown away by was an early-ish incarnation of Marble Ginger, back when the ginger was seriously firey! I stumbled across a homebrew kit at some point in 2010, then quickly got carried away. Within a couple of years, I was brewing multiple beers every week. That was more than I could possibly consume myself, so it seemed a reasonable move to inflict the end results on the general public! Just as I started looking for suitable premises, I met Peter and Nick, who were in almost exactly the same position. We decided to join forces, and after a few delays with planning permission, we started brewing commercially in August 2015. After a couple of sensible bitters, we threw all sensible plans out the window and our first bottle release was a heavily smoked stout 🙂
Which moment in that journey are you most proud of?
That would probably be pouring our beers at IndyManBeerCon in 2016, shortly after the brewery's 1st birthday. We were all huge fans of IMBC anyway, having been every year since day one, but we were there in 2015 after we'd just brewed our first few beers, and we said to one another, "it'd be amazing if we could get our beers here one day". The following year, we were serving our beers on a bar with Warpigs and giving a talk about smoked beer! Subsequent years, we shared bars with Cascade and Other Half. Absolute madness,
Any regrets…?
Nothing really comes to mind. Not a regret as such, but we tend to think of ourselves as a European brewery, rather than being UK-centric particularly, so it's a shame that things have gone the way they have in that respect…
What was the last beer you drank for pleasure?
Too many to keep track of! The beer I've enjoyed most recently however was Lori, a DDH IPA from Squawk, who are producing some really amazing beers at the moment. Either that or some Orval or Saison Dupont, both of which are permanent fixtures in my fridge.
What genre of music usually rocks the brewhouse to get those creative juices flowing?
There's usually too much noise going on in the brewery to listen to music. We do usually have some sort of mutually agreeable soundtrack playing while we're bottling though, more often than not Bowie, Clutch or Nine Inch Nails. It's all-metal when I'm out delivering – Machine Head, Trivium, Pantera, and the like.
What do you think the biggest challenges for you will be in the next 12 months?
In the wake of 2020, there's very little that isn't going to be a challenge in the next 12 months, unfortunately… We're waiting to see what sort of impact Brexit is going to have on some of the ingredients we import. We're big fans of European hops, and we get all of our smoked malt from Germany too, so there's potential for some real disruption there. Apart from that, we'll continue to grapple with the challenge of convincing people that cans aren't automatically better than bottles…!
Are there any particular beer styles you love or can't stand, if so what are they?
I really don't like anything that contains too much lactose – the cloying sweetness just sets my teeth on edge. There's nothing wrong with a well-balanced milk stout, but I'm not a fan of anything you could reasonably attach the word "pastry" to, or anything using the word "milkshake". I also tend to avoid any beer that contains what I'd say are "hot" flavours, such as cinnamon, tonka beans, or excessive chilli.
Describe your most memorable "beer moment"?**
**A point in time where everything fell into place, the beer, location, good company (or solitude), or whatever and you thought, YES, THIS!
Loads come to mind, but the first time Angharad and I went to Belgium stands out. I think the end tally was 106 different beers in a week, but the highlight was sitting out on the deck at Kaffee de Planck in Ghent (it's an industrial barge converted into a bar), drinking a rather old, dusty bottle of Boon Mariage Parfait in the sunshine. Bliss.
Who would you most love to collaborate with and why?
Collabs are always good fun, particularly when it's with a like-minded brewery. In the UK I'd say Top Out maybe (always interesting but underrated Scottish brewery). Overseas, I'm a huge fan of Jopen personally – their approach to properly bitter IPAs and ridiculous imperial beers feels very much like our own!
If you could have one beer with someone dead or alive, who would it be with, which beer would you choose and where would you drink it?
Not terribly glamourous, but I'd love to have a pint of mild with my grandad at the brewery. He passed away a good while ago now, but he was a real old-school tinkerer (he'd always be mending things in his tool shed, and I once remember him turning an old TV into a coffee table!), so I think he'd be fascinated by what we've put together in our little warehouse in New Mills!
What is your perfect beer snack?
I'm a big fan of pickled eggs, and always partial to some dirty pork scratchings, but Snyder's pretzel pieces are the king of beer snacks.
What do you like to do outside of your beer life?
Now that my life runs on "brewery time" (where everything takes twice as long as you think it will), I don't tend to have a huge amount of spare time. What little I do have tends to be spent with our dogs Kami and Toshi, cooking, or just chilling out at home with a bit of vinyl.
Where can people find out more about you, socials/blog/website etc.
We do have a website, and even a webshop (http://www.torrside.co.uk/buy-torrside.html) these days, but time is the one commodity above all others that we are always short of, so we tend to update social media far more frequently.
https://www.facebook.com/torrside/
https://www.instagram.com/torrsidebrewing/
Brewery gang on Twitter: @9SquirrelsBrew @PyotrSidwell @Cinykk @elliadesigns @SRothko @9SQAngharad
Can people pop in to visit you for a beer? 
Back in normal times, we used to open as a brewery tap the last weekend of the month from April to September, but obviously, that hasn't happened this year. We're hoping things will have returned to normality sufficiently for us to start doing that again from Easter 2021. Fortunately, at the end of last year, The Shrub Club opened just down the road from the brewery at Torr Vale Mill. They have up to five Torrside beers on draught permanently, so it's kind of like an unofficial brewery tap! Great food and cocktails too – well worth a visit!
Is there anything else you'd like to share with us?
One of the things that really makes us stand out as a brewery is the amazing artwork that Emma Sidwell does for us. We're ridiculously lucky to have such a talented artist as part of our brewery family, and love sharing her work with a wider audience via our bottles, pump clips, etc. (You can buy a whole host of Emma's work online here – https://www.etsy.com/uk/shop/EmmaSidwellArt or https://www.redbubble.com/people/ElliaDesigns/shop)
I'd also like to give a shout-out to our other favourite place in New Mills – if you're ever in the area, do pop into the Beer Shed. Russell has supported the brewery from day one, and genuinely transformed local drinking when he opened the pub four years ago. It's our local too, so you'll often find us lurking downstairs!